If you are interested in the health sciences and would like to make a significant contribution to patient care, then a career in medical technology may be for you. Medical technology classes cover a range of career paths, from orthopedic technology to medical assisting.
Under the medical technology umbrella are various health jobs that allow you to help treat patients, test results, conduct research, and much more. Many find a career in medical technology very rewarding as they play a key role in making a difference in the care a patient receives.
At our trade school in Florida, we offer a wide variety of medical technology classes, including: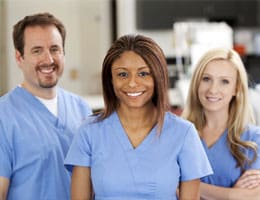 Electrocardiograph Technology – Learn how to perform a 12 lead EKG, properly maintain diagnostic equipment, recognize normal and abnormal sinus rhythms, and monitor patients for cardiovascular disorders. During this four-month course, you will be taught anatomy and physiology with an emphasis on cardiac and vascular systems, medical terminology, patient care techniques, medical instruction, cardiac monitoring, and more.
Pharmacy Technician – In this course, you will learn the skills you need to be a successful pharmacy technician. You'll learn about the tasks related to receiving and dispensing pharmaceutical products along with their manufacturing, packaging, and labeling.
Surgical Technology – This course will equip you with the skills needed to prepare instruments and materials for use at the operating table. Upon completion of this course, you will be eligible to take the National Certifying Examination for Surgical Technologists.
For a full list of the medical technology classes offered at our Colleges in Broward County Florida, please visit our website or get in touch with us via email. We have numerous conveniently located Broward Community College continuing education schools across the South Florida area.
If you are interested in patient care but are searching for something other than medical technology, we also offer a superb nursing program at Broward College.
We are proud to offer the Broward, FL area with an avenue towards quality education and a rewarding career. We are also one of the few trade schools with job placement in the area to help you get that important first step on the career ladder.
We look forward to helping you pursue a career in medical technology.