Hospitality & Tourism
Heat up your future!  Broward Technical Colleges' Culinary Arts programs. Prepare for a future in Professional Culinary Arts & Hospitality, Baking & Pastry Arts or Culinary Vegetarian & Plan Based Specialties.  Learn to prepare foods in a commercial kitchen, learn the art of baking and even learn to prepare wholesome, plant-based, nourishing foods. Learn what it takes to succeed with a new-found knowledge in preparing and presenting delicious dishes!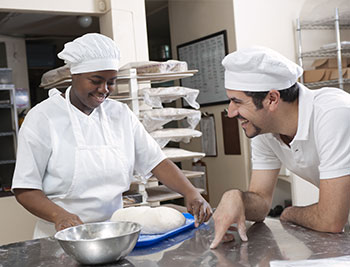 Baking & Pastry Arts
Program Length:
600 hours / approx. 9 months – full time Students are prepared for employment as a baker or pastry cook in bakeries, restaurants, hotels and in any facility where baked goods and pastries are produced. Subject areas covered are yeast products (breads, danish pastry, sweet buns, croissants, rolls) pastry, cookies, cakes, cake decorating, pies, quick breads, various desserts, creams, fillings, and presentation techniques.
 Professional Culinary Arts & Hospitality
Program Length: 1200 hours / approx. 10 months – full time
Students practice hands-on skills that are required to prepare commercial foods in quantity. All phases of baking are taught as part of the program. Job related classroom competencies in sanitation, safety, employability skills, care and use of equipment, basic nutrition, menu planning, food costing, portion control, and hospitality management are also part of the instruction.
This program is accredited by the Accrediting Commission of the American Culinary Federation Education Foundation (ACFEF)
Culinary Vegetarian & Plant Based Specialty
Program Length:
600 Hours/6 Months/Hybrid
One of the hottest growing trends is Plant-based cooking and because of that professionally trained plant-based chefs are now in demand.  If your passion is to prepare wholesome, nourishing foods, your talents are needed in modern professional plant-based kitchens.