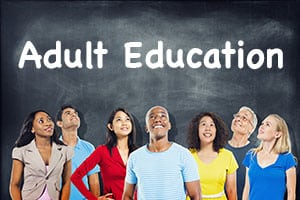 Adult General Education in the Miami, FL Area
Academic Studies instruction is designed to support students whose current academic skills may prevent success in the licensure programs of their choice. The program here at Broward Technical Colleges includes basic skills (reading, mathematics, language), complementary skills, and employability skills.
This is a Workforce Development program designed for limited English proficient adult students to acquire skills in listening, speaking, reading, and writing the English language and to facilitate their acculturation to the workforce in the United States.
ADULT BASIC EDUCATION
The Adult Basic Education program in the Fort Lauderdale, FL area is designed to develop the skills necessary for successful employment and citizenship. The content develops basic literacy in all areas of knowledge, including reading, language and mathematics. This course prepares students to enroll in GED® preparation courses or increases their skill levels to be successful in a technical program of study.
What are the prerequisites for the Adult Basic Education Program? All students must take the TABE placement tests from which prescriptive lessons are written. In addition, enthusiasm and a willingness to learn, along with a good attendance record, are essential for ABE success.
What service will I receive from this Adult Basic Education Program? Students will receive quality instruction that will help them in gaining the skills necessary for successful employment and/or transition to GED® Preparation.
When may I enroll in ABE? This program is open-entry/open-exit, which allows students to enter and exit the program when their individual needs have been met.
When is the Adult Basic Education Program offered? The classes are offered mornings and afternoons, Monday through Friday;  Tuesday and Thursday evenings and Saturday mornings.
GENERAL EDUCATIONAL DEVELOPMENT  (GED®)
Congratulations on your decision to take your education to the next level by pursuing your GED® Diploma. The GED® Test measures high school level skills and knowledge. Obtaining your GED® Diploma will not only open doors in a number of ways, but also helps to prepare you for your next steps in either a postsecondary educational program or career of your choice.
At Broward Technical Colleges serving the South Florida area, our instructors are highly qualified and will offer you the targeted instruction that you need to complete your GED® Diploma as quickly as possible. Our face-to-face and online instruction provides flexibility that fits your lifestyle. We are a caring staff who are dedicated to you as a student and professional. In fact, at Broward Technical Colleges, we will not only prepare you for the information and skills that you will need to pass the test, we will also provide you with the official GED® practice test (GED® Ready) FREE of charge. We are here to help you succeed, so come on in and talk to one of our staff members today. Find out how we can help you reach your goals!
APPLIED ACADEMICS FOR ADULT EDUCATION
Applied Academics for Adult Education is designed to provide instruction to students who need to upgrade basic skills in reading, language arts, mathematics, and other related instructional areas (for example, science and social studies), as appropriate. Also included are study and reference skills.  Using results from the Tests of Adult Basic Education (TABE), instructors prepare individual prescriptive lessons for the student whose scores do not meet the state-mandated basic skill exit level requirements for the training program which he/she has chosen. Meeting the TABE exit scores for each program is a requirement in order for the student to obtain a certificate from the training program, if the program length is 450 hours or more. The length of the class varies according to the student's academic needs.