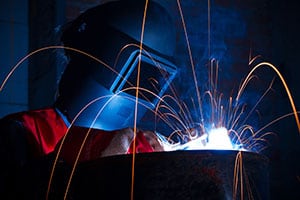 Architecture and Construction
Air Conditioning / Refrigeration / Heating Technology
The Air Conditioning / Refrigeration / Heating Installation and Repair program provides classroom and lab experiences that enable the student to become proficient in the installation, repair, and maintenance of domestic and commercial air conditioning, refrigeration, and heating systems. Instruction includes:
Theory and application of the basic principles involved in the conditioning of air: cooling, heating, filtering, and humidity control.
The operating characteristics of various systems and subsystem components.
Schematic reading and interpretation.
Use of technical manuals.
Diagnosis of malfunctions.
Adjustments of components such as compressors, metering devices, temperature and pressure control devices.
Carpentry
Learn to become a rough or finish carpenter in the rapidly growing construction industry.  Students will experience all facets of the the carpentry trade including: framing and form work, finish and trim work, planning, management, finance, technical and production skills, and health, safety and environmental issues.
Electricity
The Electricity Training Program is designed to make the student employable in the vast network of jobs in the electrical trades. Students will be taught basic electricity, residential wiring, commercial wiring, and trouble diagnosis and repair procedures.
Drafting
The Drafting program is designed to provide specialized learning experiences that emphasize graphics and related technical theory, and the use of the drafting laboratory to gather and translate data and specifications. Instruction in Drafting is designed to provide experience in all aspects of this graphic language and teaches students how to express individual creative ideas and designs.