Are you interested in a rewarding career to help people and having no two days be the same? Look no further than becoming a firefighter. When you make the decision to attend the Broward Fire Academy, you will receive in-depth training to become a certified firefighter.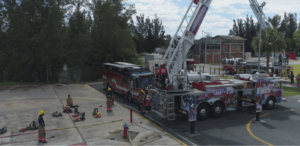 To join the academy, you will need to be at least 18 years of age and have earned a standard high school diploma from a regionally accredited institution. You also must take and pass the Tests for Adult Basic Education (or TABE) along with a current BLS Healthcare Providers (CPR and AED) card. If you have earned a college diploma from a regionally accredited institution, you are exempt from TABE. Along with those items, you must have completed EMT training and a current Broward Fire Academy physical agility test on file. Since this career is very physically demanding due to the performing strenuous activity while wearing heavy gear, it is key to have enough stamina to be up to the tasks that are needed to be complete. Once you have met these qualifications, you are ready to get started and be on your way to becoming a hero.
The Firefighter I and II program is offered at McFatter Technical College, one of our technical schools in Broward County. This program combines class work with field activities and is 398 hours long with both part-time and full-time offerings. The part-time program takes place in the evening and takes five months to complete. If you decide to enroll full-time, the program will take three months to complete. In addition to the registration fee, you are required to purchase books, uniforms, and supplies.
During the program at one of our Broward continuing education schools, you will learn about proper ladder usage, hose layout, hazard materials, and how to use your breathing apparatus. Tasks will be performed under hazardous and non-hazardous conditions that meet national and local certification requirements.
When you have completed and passed the program, the full-time staff at the Broward career center can help you with placement so you can put your new skills to the test. If you have any questions about this Florida career college near Fort Lauderdale, do not hesitate to contact us.