Have you always had a passion for graphic design? You will find a variety of classes in our Arts, A/V, Technology, and Communications programs that will help you excel in the graphic design field. At Broward Technical Colleges, our professional teachers will help give you all the skills you need for a fulfilling career.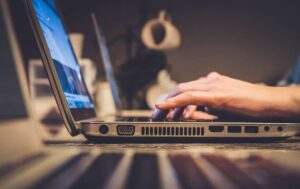 Digital Media/Multimedia Design Technology
Our Digital Media/Multimedia Design Technology program is a hands-on computer class that teaches skills in the production of presentations, video editing, web design, and simple animation. You will learn the latest new media software and become fluent in the Macintosh platform. This class is 1050 hours and is offered full-time over ten months.
Graphic Communications and Printing Technology
In our Graphic Communications and Printing Technology program, you'll learn the basic principles of computer graphics, layout, design, and typography. We'll help you learn the fundamentals of page layout, illustration, and photo manipulation in Adobe software programs including InDesign, Illustrator, and Photoshop. This is a hybrid course that is 650 hours and lasts 16 months.   
Digital Printing Technology
Our Digital Printing Technology program teaches typography, design and layout, and color principles in the printing and graphic arts industry. You will become proficient in Adobe InDesign, Illustrator, and Acrobat. You'll also become certified in Adobe Photoshop. The course also teaches both electronic prepress operations and the components of digital printing systems. It's a full-time course that is 990 hours and lasts approximately ten months.
Ready to get started?
When you take classes from our graphic design trade school, your credentials can be transferred to go towards your Associate degree at Broward College or one of your preferred schools in the Florida college system. These classes at our Florida technical colleges will help prepare you for an approved state or nationally-recognized industry certification too. An industry certification can help make you more employable.
Ready to find the career of your dreams? Want to work towards that degree and gain invaluable experience? Reach out to our team today to get enrolled or you can apply online. Don't wait – this is the first step towards a rewarding future!