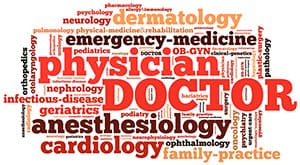 Health Science & Medical Technology
CORE
Comprehensive Medical Core is a 90 hour online course designed to provide a solid foundation for the healthcare worker. The curriculum covers healthcare workers and facilities, communication skills, workplace safety/OSHA, law and ethics, infection control, fundamental skills, hepatitis and blood borne illnesses, introduction to the human body, basic first aid, CPR and career planning. Modules for AIDS/HIV, Prevention of Medical Errors, and Domestic Abuse are included in the course. You will be provided with a Core Certificate at the successful completion of the class.
Central Sterile Processing Technology
The Central Sterile Processing Technician works in hospitals or surgical out-patient centers as sterile processing technicians, central supply workers, material management workers and inventory technicians. Students will develop a variety of skills and competencies using supplies, instruments and equipment during their clinical rotation at several local health care facilities. Skills covered include how to decontaminate, prepare and sterilize instrument trays for surgical procedures, disinfect patient care equipment and the various methods of inventory control storage and distribution of sterile supplies and equipment. Students completing this program may articulate into Surgical Technology Programs with advanced credit hours.
Health Unit Coordinator
The Health Unit Coordinator (Unit Secretary) program teaches the skills needed to work in hospitals, nursing homes, rehabilitation centers or medical offices coordinating patient care as a key clerical person on the medical team.
Hemodialysis Technician
The Hemodialysis Technician Training program is designed to prepare students for employment as hemodialysis technicians or dialysis technicians. The dialysis technician help patients with end stage renal disease (permanent kidney failure) receive safe and effective dialysis treatments by learning what dialysis is, how dialysis was developed, the proper use and maintenance of dialysis equipment to ensure the highest quality of care for these patients.
Medical Coder/Biller
The Medical Coder / Biller program is a comprehensive certificate program. Medical Coding is the transformation of diseases, injuries and procedure descriptions into numerical designations. A Medical Coder/Biller reviews medical records and assigns codes to diagnoses and procedures to support clinical care, assist medical research, and provide information for reimbursement purposes.
Orthopedic Technology
The Orthopedic Technology program prepares students to work with orthopedic surgeons to treat patients in a variety of health care environments. The program provides the skills and knowledge needed to become a competent orthopedic technologist performing the following services: routine office and departmental procedures; applying, adjusting, and removing casts, splints and braces; assisting with the care of acutely injured patients; and assisting the physician in the reduction and/or manipulation of orthopedic injuries. Graduates may be employed in hospitals, clinics, and private practice offices.
Patient Care Technician
The Patient Care Technician/ Nursing Assistant is a skilled health care worker, who under the direction and supervision of a Professional Nurse, will carry out essential basic bedside nursing functions. The Patient Care Technician/ Nursing Assistant will come in direct contact with the patient in the performance of his/her assigned duties. Employment is in hospitals, nursing homes, and with home health agencies, and involves working weekends, holidays and various hours.
Pharmacy Technician
Pharmacy Technicians generally work under the supervision of a registered pharmacist and perform tasks related to receiving, dispensing, distribution, control, maintenance, compounding, manufacturing, packaging and labeling of pharmaceutical products. Currently, Pharmacy Technicians are assuming more responsibility for routine tasks, previously performed by pharmacists, and will be responsible for mastering new pharmacy technology as it becomes available. Opportunities for advancement may vary with the Pharmacy Technician's employer. Upon successful completion of this program, and in accordance with State guidelines, students will earn an Applied Technology Diploma.
Practical Nursing
The Practical Nursing program prepares students to participate in the planning, implementation, and evaluation of nursing care in hospitals and extended care facilities. Practical Nursing students are required to participate in clinical experience. PN students are introduced to the clinical area early in the program. Theory and clinical procedures are integrated to reinforce learning. Practical Nursing training classes are offered full time days only. Class offerings are determined by enrollment, as well as the availability of clinical sites and instructor availability. In addition to lecture and laboratory instruction, clinical practice is required. It is essential that Practical Nursing Training students have their own transportation to travel to the clinical sites.
Unit Treatment and Rehabilitation
This program prepares students for employment as social services support aides, psychiatric aides or technicians, mental health technicians, case aides, unit treatment and rehabilitation specialists, activities assistants and / or group treatment/program aides. Psychiatric / mental health technicians work with the mentally and emotionally disabled patients under the supervision of a psychiatrist, registered nurse, or social worker. They assist persons receiving mental health and substance abuse services in residential programs, inpatient settings, or community-based programs. The psychiatric technician participates in the development and implementation of therapeutic treatment plans to stabilize, reorient, rehabilitate and maintain a safe environment for the mental health patient.
Dental Laboratory Technology
Consider the field of Dental Laboratory Technology if you enjoy working with your hands and have the ability to distinguish between subtle shades of color, size and shape. Dental Laboratory Technology students are prepared as entry-level technicians who assist with the construction and repair of dental appliances.
Electrocardiographic (EKG Technology
The Electrocardiography (EKG) Technology program is designed to successfully train students in becoming an Electrocardiograph (EKG) Technician, through a sequence of courses that provides rigorous and in-depth content that is relevant to the knowledge and skills needed to prepare students for employment in hospitals, physicians' offices, or private duty.
Medical Assistant
Do you want:
To work as a multiskilled professional in the healthcare field?
To work in a field where jobs continue to be in high demand?
To train in a state of the art classroom?
Combine classroom learning with flexible online learning?
If you answered yes, then the Medical Assistant program is for you. Designed with the student in mind, the 1300 hour, 10-month program is taught as a blended course, in the classroom and online. Some of the areas covered include:
Phlebotomy
Electrocardiography
Laboratory procedures
Medication administration
Front office assisting
Clinical assisting
This program offers an extensive, supervised externship.
Optometric Assistan
t Students in the Optometric Assistant program will develop a thorough understanding of the equipment, materials, and procedures necessary to assist the eye care specialist in the diagnosis and treatment of vision deficiencies. Optometric Assistant graduates will go to work with an Optometrist, Ophthalmologist, or an optical establishment. The Optometric Assistant program offers students the opportunity to work in an un-crowded health care field following completion of program competencies. The Optometric; Assistant curriculum is a blend of classroom, laboratory, and clinical instruction.
Nursing Assistant
This course is designed to prepare students for employment as nursing assistants, nursing aides and orderlies to work in Nursing Homes, and take the Florida State Certification Test. Course cover
Safety
Infection Control
HIV/AIDS
Employability Skills
CPR
Communication Skills
Legal & Ethical Responsibilities
Nursing Assistant Skills
Patient Care Procedure
Computer Literacy
Anatomy & Physiology
Health Care Delivery
Geriatric Care
Massage Therapy
The Massage Therapy program is designed to prepare students for employment as licensed massage therapists in a variety of health care and wellness settings.
Medical Record Transcribing
The Medical Record Transcribing program prepares students for employment as medical record transcriptionists. Curriculum includes the following major skill areas: medical terminology, anatomy and physiology, grammar and punctuation, health care delivery systems, health information services, legal and ethical responsibilities, safety/security procedures, computer/transcription skills, employability skills, and entrepreneurship.
Phlebotomy
This course will enable the health care provider to master the skills and practice phlebotomy. The course includes study of anatomy and physiology of the venous system and common laboratory blood tests. Background in healthcare field/core certificate required. Surgical Technology The Surgical Technology program prepares students for employment as surgical technologists. Included are the following major areas of training: communication and interpersonal skills, legal and ethical responsibilities, anatomy, physiology, microbiology, aseptic techniques, patient care procedures, surgical technology procedures, patient safety, use and care of equipment and supplies, CPR, employability skills, and basic computer literacy. For more information about the programs please use the form below.