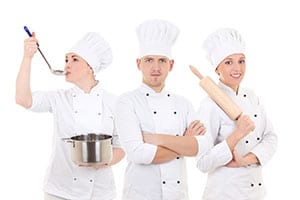 Learn More About Our Culinary Schools in Broward County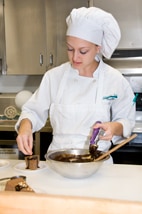 The Commercial Foods / Culinary Arts program here at Florida career colleges are designed to prepare students for employment in various commercial food service establishments such as restaurants, cafeterias, country clubs, and catering services as entry level Chefs. Culinary Arts students learn skills that are required to prepare commercial foods in quantity (soups, sauces, salads, meats, seafood, vegetables, etc.); Chef Training also incorporates all phases of baking including:
Pies
Yeast breads
Quick breads
Cakes
Cookies
Decorating
The content of this Culinary Arts program at our culinary colleges in Florida includes job-related classroom competencies in:
Safety & Sanitation
Nutrition Principles
Human Relations Management
Menu Planning
Purchasing & Receiving
Catering & Beverage Service
Dining Room Service
Equipment Management
Meat, Poultry & Seafood Preparation
Fruit, Vegetable & Salad Preparation
International & Classical Cuisine
Bakery & Dessert Prep.
Entrepreneurship
Basic Science
Math Skills
Communication Skills
Employability Skills
Volume Foods
Controlling Food Service Costs
This program is accredited by the Accrediting Commission of the American Culinary Federation Education Foundation (ACFEF).
Completion Time:
The length of the program is 1200 hours (approx. 12 months).
Industry Certification & State Credential Exams:
ServSafe (as required by the FL Dept. of Health) may be earned during the program. Students will be prepared to take an approved state and/or nationally recognized industry certification or licensure exam in their field of study.
College Credit Transfer Opportunity and / or Advanced Credit:
Upon completion of the program and meeting eligibility requirements, including the attainment of an aligned industry credential, students may be awarded credits toward an Associate Degree by Broward College or the Florida College System.  Students must enroll in Broward College within 2 years of completing the program at a Broward Technical College. Additional college credit may be awarded with the attainment of additional industry credentials.
American Culinary Federation related classes of 30 hours are offered in each of the following subjects: Nutrition, Sanitation, Supervision and Management
For more information about Culinary Arts or Chef Training, contact the campus of your choice or use the form below.