Looking to further your knowledge about child care? Interested in getting accredited to care for children? Our child care courses at Broward Technical Colleges can help prepare you for industry certification and help give you the child care training you need.
Child Care Center Operations
With this course, you can learn more about the basics of owning and operating a child care facility. This course is required for all child care center owners and/or directors. This class is an approved DCF (Department of Children and Families) course for the Florida Director Credential – Level 1. By taking this course, you satisfy the Child Care Licensing Standards, mandated by the Florida Legislature. It's a 45-hour course that is available online only, every nine weeks.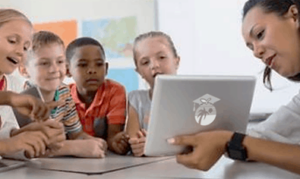 Early Childhood Education
This course covers key education areas: child growth and development, health, safety, nutrition, behavior guidance techniques, child abuse and neglect, rules and regulations governing child care, community and environmental issues, language development and emergent literacy, lesson and program planning, inclusion of children with special needs, interpersonal relations, communication, employability skills, labor issues, entrepreneurship, and more. This 600-hour course is available twice a year in both August and January. The hybrid course also includes documented internship hours. It is offered at both McFatter Technical College and Sheridan Technical College.
Principles of Teaching
Principles of Teaching is a beneficial class for future Teacher Assistants and Substitute Teachers of Broward County. This 600-hour course takes place over six months. It teaches you the fundamentals of lesson planning and implementation, classroom management techniques, standard procedures, and more, all in-line with the county's recommendations. This course is offered at McFatter Technical College and is offered twice a year in both August and January. It includes a required internship that will be assigned at a Broward County public school.
Ready to get started? You can start by applying for classes online or reach out to our team for help. We pride ourselves on the fact that our colleges near Fort Lauderdale, FL can work for all schedules and lifestyles. We'll help you find schooling that can help build your future without compromising your present. Reach out to us today!