We provide the path to your future career.
At Broward Technical Colleges, we believe that there isn't a "once size fits all" approach to further education. Many people used to believe that the only path to a successful career was graduating from an accredited four-year college or university. Today, the job market has shifted and many companies are looking for trained workers with technical skills.
That's where we come in. We have everything you need to set you on a path to achieve your career goals.
Variety of Programs & Expert Training
We have a wide range of career options and over 69 programs to choose from. All our instructors are industry professionals, state-licensed and certified, and committed to helping you acquire the certification and training you need to advance yo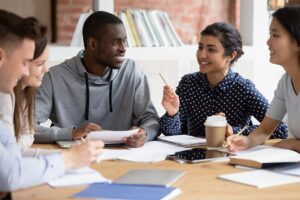 ur career.
Your course will have a combination of classroom theory work and "hands-on" training. Many programs also offer on-the-job training and/or internships allowing you to gain valuable experience.
At the end of your program, you'll be equipped with the skills and knowledge you need to succeed in your chosen career.
The Flexibility You Need
Most of our programs can be completed within 12 months, allowing our students to join the workforce quickly. There are also some programs available in the evenings and on Saturdays, and many programs are offered through online classes, allowing you the flexibility to find a schedule that works best for you.
Job Placement Assistance
We understand that the transition between training and work can be difficult to navigate, which is why we are proud to offer job placement assistance following graduation. We have a full-time staff dedicated to helping you find the perfect job once you've graduated, whether that's in nursing and patient care or information technology.
Low-Cost Programs
We are also proud to offer all our students a quality education at an affordable price. Broward Technical Colleges are supported by tax dollars, which means that tuition is just a small fraction of the cost of a two- or four-year public or private college. We also offer financial aid assistance through many agencies, scholarships, and other grant programs.
Numerous Locations
We are comprised of three convenient technical colleges in Broward County: Atlantic Technical College in Coconut Creek and Fort Lauderdale, McFatter Technical College in Davie, and Sheridan Technical College in Hollywood and Pembroke Pines.
To learn more about our programs, or if you have any questions, please visit our website, give us a call, or visit one of our campuses for a tour. If you are searching for a "trade school near me" in the Broward, FL, area, look no further than Broward Technical Colleges.