The culinary field continues to grow, and our selection of programs for aspiring chefs continues to expand as well. One program that might catch your interest is our baking and pastry arts curriculum.
If you're looking for a versatile skill set that can help you find the culinary job of your dreams, then Broward Technical Colleges can help.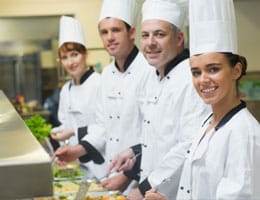 The Length of the Program
If you want to start a new career quickly, you need a program that understands that. This is why our culinary colleges in Florida are good choices for people who don't want to wait long to test out their new skills in the real world.
When you enroll in the baking and pastry arts program, you're going to learn what you need to know about this culinary field in 600 hours. If you pursue this program full-time, you can be finished within nine months.
The programs at our trade schools strive to offer flexibility, so engaging in this program part-time is also an option. However, if your goal is to jump-start your career in a new field as soon as possible we can help with that too.
What You'll Learn
The baking and pastry arts program will teach you how to cook a variety of tasty treats while honing your culinary skills. The program focuses on yeast products, like breads, croissants, and rolls. You'll naturally work on pastries too, along with cookies, pies, and other deserts.
You'll also learn how to cook amazing cakes for every occasion, and you'll learn how to decorate them! Presentation is also an important part of baking and the pastry arts, so knowing how to make a cake as beautiful as it is delicious is an incredibly important skill.
By the time you complete the baking and pastry arts program, you'll have the skills needed to work in bakeries, hotels, restaurants, or anywhere else baked goods are made. Take the first step towards your new career and enroll today.
Take the First Step Towards Your New Career Today!
If you're looking for a change and want to learn the skills needed to keep up in today's job market, then visit our website and read more about the programs at our colleges near Fort Lauderdale. We'll help you find a culinary program and that new job you've been searching for.