Are you interested in working alongside doctors and nurses to provide quality patient care? Then a career in medical assisting may be for you. Our medical assistant schools in Broward, FL offer a wide variety of courses to help prepare you for a rewarding and exciting career.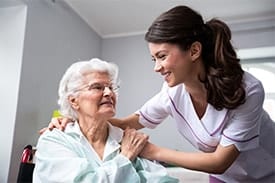 What is Medical Assisting?
Medical assistants are multi-skilled health professionals working on the front line of patient care. Medical assistants work closely with patients, nurses, and doctors, and perform a variety of clinical and administrative tasks. Depending on the medical office, you could have a mix of clinical duties and administrative responsibilities.
Clinical duties could include assisting physicians with patient exams, giving injections or medications, and sterilizing medical supplies. You may also perform administrative tasks such as updating and maintaining patient charts, assisting with medical billing, managing medical records, filing insurance claims, and scheduling patient appointments.
Our Medical Assistant Courses in Broward
Our Broward continuing education schools offer numerous courses to help you take that first step towards a career in medical assisting.
Medical Assisting:  Over the course of 12 months, you will learn the skills you need to begin a successful career as a Medical Assistant. You will be trained in clerical and medical office procedures, phlebotomy, EKG, X-Ray, basic patient care techniques, and laboratory procedures.
Medical Coder Biller – ATD: The medical coder/biller is responsible for the accurate flow of medical information and patient data between physicians, patients, and third-party payers. In our 11-month course, you will learn everything you need to start a career as a medical coder/biller.
Optometric Assisting: This 10-month course gives you the skills you need to specialize in the field of optometric assisting. You will learn the procedures and equipment used in diagnosing and treating eye and vision deficiencies and office procedures to work in an eye doctor's office or clinic.
For our complete course catalog, please visit our website or stop in and see us at one of our medical assistant schools in Broward, FL. If you are interested in exploring another health science career, we offer a variety of options including medical technology programs and an outstanding nursing program at Broward College.
If you are searching for trade schools in Florida, look no further than Broward Technical College. We look forward to helping you nurture your new career path!