If your passion is getting cars back to running like new, turn it into a career with automotive repair classes at Broward Technical College. Our fully-accredited technical school in Broward County will prepare you for a fulfilling career in this field with courses taught by highly-trained instructors and job placement when you've completed the program. Learn about these automotive opportunities today!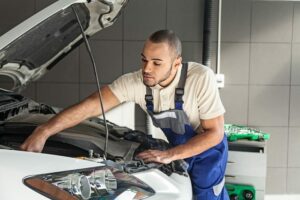 Transportation, Distribution, and Logistics
The Automotive Maintenance and Light Repair program falls under the Transportation, Distribution, and Logistics category. This particular program will focus on the skills required to work on the most vital systems within an automobile – engines, brakes, electrical, and suspension systems. At the end of the program, you will be able to confidently complete basic repairs and maintenance on all makes and models of cars, SUVs, and light trucks. This program is 600 hours long, which means you will be finished within one year. Our Broward Career Center will then assist you with finding an entry-level role at a dealership or repair facility.
There are 14 other programs under the Transportation, Distribution, and Logistics umbrella. If you are looking to work with specific makes, such as Nissan or Audi, we have programs that will bring you to an advanced level of knowledge for these types of dealerships. Automotive Service Technology will prepare you to work on systems such as air conditioning and computerized automotive repair data systems. We even have programs for students with a passion toward marine equipment and diesel maintenance.
Our programs go beyond teaching the specifics of automotive equipment. We also want our students to leave our facility knowing the ins and outs of the automotive business and how to effectively work with customers, as well as peers.
About Broward Technical College
There are many reasons to choose Broward Technical College to begin establishing your career. Our school offers a variety of programs that meet the diverse career goals of our students. In addition to getting settled into a career, we also offer GED certification. Whether you dream of being a nurse, electrician, or of attending the Broward College Fire Academy, we have the tools to get you on the path to success.
We look forward to meeting with you to determine your goals. Visit our trade schools today!