At Broward Technical College, everything we do is designed around making the best future possible for our students. And to our students that want to protect the health of those around them, our medical assistant schools in Broward offer the Patient Care Technician school course, a nursing program Broward College offers to give prospective new healthcare professionals the experience they need to further their medical careers.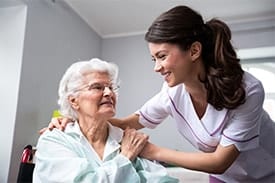 What is a Patient Care Technician?
It's a lot more syllables than nurse, but Patient Care Technicians are those in direct contact with a patient. Think like a technician that hooks up an EKG, someone who draws your blood (a phlebotomist), or someone who performs basic CPR and other restorative techniques.
For those looking for that step in the door to the healthcare field but don't have any medical experience, look to our trade schools. We provide courses to teach you valuable skills that further your education and find you a job in the medical field. When this course is completed, then you're eligible to take the State-Certified Nursing Assistant Certification Examination.
Other Medical Programs at Broward Technical Colleges
If you're looking to expand your medical expertise with medical technology programs, Broward Technical Colleges is here to help you out. We offer a wealth of options, from focusing on sectors like phlebotomy or hemodialysis, to specializing in Emergency Medical Technician services or a Practical Nursing program.
They run the gamut of 18-month classes for Dental Laboratory Assistants to as little as 8 weeks for Phlebotomy courses. They're all available online, so you can change your career as you work from home!
Discover Them All Today!
Working in the medical field has never been more accessible or more vital. Get your career started today by requesting information from our colleges in Broward County Florida so you can get the edge and the certifications that are necessary to be successful in your field!
Patient Care Technician

Course Details:

600 hours course length
Estimated Completion: 6 Months of full-time enrollment
Eligible for State Certified Nursing Assistant Certification Examination

Other Health Care

Programs at Broward:

Practical Nursing
Phlebotomy
Hemodialysis Technician
Emergency Medical Technician