While continuing your education is always a wise endeavor, learning the skills necessary to actually fill an open position in a given industry is what today's job market demands. In many cases, those skills can only be picked up with hands-on experience or by attending a technical school like our Florida technical college in Pembroke Pines, FL.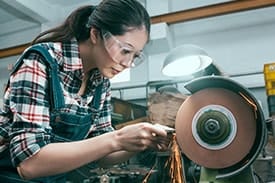 Consider a Career as a Certified Drafter
Broward Technical Colleges operates several technical schools in Broward County, which are largely funded by tax dollars. Our campuses offer multiple rapid credentialing programs that enable people to launch a career in a year. One of those programs is our drafting program.
When you complete our drafting program, you'll be prepared to seek employment as a certified drafter. You'll have several specialized fields to pursue, including:
Aerospace
Architectural
Automotive
Electrical and electronic
Circuitry
Topographical
Learning the Universal Language of Industry
To be a certified drafter, you'll need to learn what's called the "universal language of industry." The words and phrases used in drafting are referred to as the universal language of industry because they're precise terms used to relay exacting ideas between different parties.
Symbols are also part of the universal language of industry. A drafter must know what every symbol stands for because each one represents the shape, size, finish, material, fabrication, and/or assembly of a certain deliverable.
The ability to create, understand, and interpret drawings are essential skills that drafters must have to succeed. Drawings are the basis for constructing things, after all.
By being well-versed in the universal language of industry, you'll be prepared to perform as a competent certified drafter who's fluent in the language necessary to communicate aptly with your peers with spoken words and using manual or CADD-generated, detailed drawings.
Enroll Today
Whether you enroll at our Atlantic Technical College or one of our other conveniently located campuses, the key is to do just that – enroll – so you'll be prepared to launch your career as a skilled, sought-after laborer in a year. With the ability to speak the universal language of industry as a certified drafter, your career options will be as limitless as they can be.
To learn more about our rapid credentialing programs, give us a call, reach out to us online, or visit Broward Technical Colleges today.