If you enjoy helping others and making a difference every day, then pursuing a career in patient care may be for you.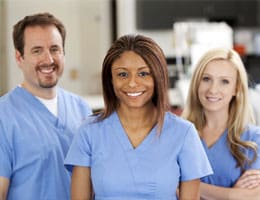 A patient care technician is a valuable healthcare professional that assists patients and other healthcare workers. From helping a patient eat to checking a patient's vital signs, a patient care technician plays a vital role in patient care. You can expect to rarely experience the same day twice!
Patient care technicians are employed by hospitals, medical labs, physician offices, and extended care facilities. No matter where you are employed, the majority of your day-to-day duties will revolve around helping people. Which is one reason why a career in patient training can be very rewarding and fulfilling.
To become a patient care technician, you must have a high school diploma and complete a patient care technician training program. At our Florida Technical College near Pembroke Pines, you can complete our patient care training program in six months if you commit to the course full time. You will learn how to perform vital tasks such as preparing patients for examination, how to draw blood, and much more. You will also receive supplementary training in 12-lead EKG, basic phlebotomy techniques, and restorative skills.
The patient care technician training program is an excellent course for students who wish to enter the healthcare field. You can start work right away as a patient care technician or the course can be a steppingstone to pursue other medical career fields such as nursing. We have an excellent nursing program at Broward college for those interested.
After completing the training program, you can become a certified patient care technician/assistant (CPCT/A) by passing an exam. Then it's time to apply for jobs. The good news is there are few places like Florida to start your patient care technician career. Florida has a wide range of medical facilities, with numerous job opportunities.
The team at our Broward career center is also committed to helping you find your dream job. When you enroll in a course at one of our colleges near Fort Lauderdale, FL, you have the assistance of our full-time team to help you find a placement following graduation.
To get started, head over to our website and request more information about the patient care training program. Or you can set up an appointment with a counselor at one of our Broward continuing education schools.
If you have any questions or wish to learn more, please email us, give us a call, or stop in at one of our three conveniently located colleges. We hope to welcome you soon.