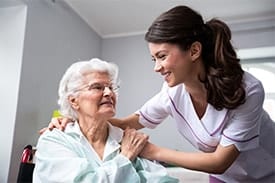 A degree isn't the only path to a rewarding career in healthcare. Patient care technicians work alongside other home caregivers, and this career is an excellent lead-up to other opportunities in the healthcare field.
If you've wondered what's involved in a Broward College patient care technician program, Broward Technical Colleges has answers as you compare programs and Florida trade schools.
What's involved in the Patient Care Technician Program?
The Patient Care Technician program, like our other programs, is a combination of theory and practice. Restorative skills, EKG training, and basic phlebotomy techniques are all covered as part of this program, giving you a background in the basics that is especially useful if you have no prior medical experience or training.
How Long Does the Program Last?
The Patient Care Technician program lasts 600 hours, and will take you about six months to complete assuming full-time attendance.
What If I Decide to Continue my Education?
We encourage you to do so. After completing the program, you will be eligible to take the State Certified Nursing Assistant Certification Examination. But like many other programs at our medical assistant schools, this is also a great way to set yourself up for future success.
Our Practical Nursing program will give you the skills to work in extended care and hospital settings upon completion of the NCLEX-PN licensure examination through the Florida State Board of Nursing. 
Are My Credits Transferable?
Your coursework can count toward college credit through the Florida college system, giving you a head start on an associate's degree. Just be aware that the time to take advantage of this is limited; you'll need to apply within two years of completing your program at Atlantic, McFatter, or Sheridan Technical College.
How Do I Get Started?
The process is quick and painless. Choose your program and your campus. Once you've done that, you'll meet with an enrollment advisor who will discuss your background, any classes you've already taken, your goals, and your financial aid.
They'll also answer any questions you might have. Once that's taken care of, you'll be ready to register for classes.