Whether you're looking to change careers, expand your horizons, or enter a new industry, Broward Technical College is an information technology college that can help you achieve your goals with comfort and flexibility.
Benefits of Attending an Information Technology College
 You might be wondering if an information technology college is right for your needs. Here at Broward Technical College, we know that returning to school and taking non-traditional routes of education can be challenging. That's why we're dedicated to making this journey toward your information technology certification as smooth as possible.
There are many benefits to an education in the field of information technology. Here are just a few:
You have many viable career options in unique and exciting fields
You can excel at your current job and find new opportunities
You will learn new forms of communication
You can travel and work wherever you want
As technology grows and evolves, so do your options for careers and jobs
Those are just a few great reasons to begin your adult education in Miami in the field of information technology through Broward Technical College. Among the classes available to IT students at our school are: Applied Cybersecurity, Game/Simulation/Animation Programing, and Web Development, so you can find the right track to fit your interests and lifestyle.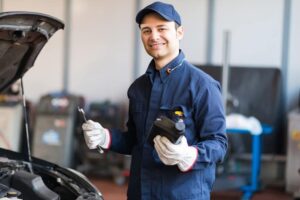 Why Broward Technical College?
 Whether you're interested in a car repair certification or in the field of medical technology, Broward Technical College has the courses and resources you need for every step of the way. We make it easy to attend school full or part time, while also balancing work and family responsibilities, and to complete your education with job opportunities that will change your life.
Not sure where to get started? At our Broward Career Center, they can help you explore class options, decide on career paths, and set up financing terms to fit your needs. Our other excellent resources and tools include:
Training courses at five locations
A full-time staff to help you transition from training to jobs
Veteran's assistance
Nearly 70 unique courses and disciplines
Credit transfer options
From our cosmetology schools in Broward county to hospitality to information technology, Broward Technical College has the resources and team here to help you turn your goals into reality. Explore our website or give us a call to get started today.
Benefits of an IT Education

Many viable career options

The opportunity for upward mobilities

Job stability and security

Interesting and evolving industry

The ability to travel or work remotely

Visit Broward Technical College For:

Nearly 70 unique disciplines and courses

A wide variety of industries and training

Training to job assistance

Veteran's Assistance

Credit transfer options