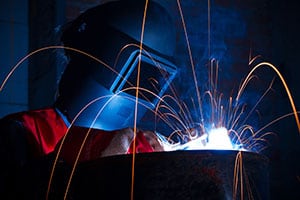 Drafting and Welding
Drafting
The Drafting program prepares you for employment as a draftsman. You will be given instruction to master the techniques and skill of mechanical and civil and structural drafting. You will use computer aided drafting (CAD) to design and draw detailed working plans and blueprints for the architectural, landscaping, construction, and manufacturing industries. Qualify for employment in positions such as Blueprint Reader, Drafting Assistant, Drafting Detailer I & II, Architectural Drafter, Civil Drafter, Mechanical Drafter, and Structural Drafter.
Applied Welding Technology
The Applied Welding Technology program offers students the opportunity to become skilled welders and welder helpers by providing instruction in the basics of welding, with equal emphasis on theory and hands-on experience. You will learn to confidently use gas and electric welding equipment. You will learn to work with steel, aluminum and stainless steel metals. Along with the hands-on training, you will learn blueprint reading and applied math. You will, at completion of all aspects of Applied Welding Technology, be eligible to gain an AWS welding certification. To find out more information about the Drafting Program or the Applied Welding Technology Program please use the form below.