If you're interested in a career in orthopedic technology, Broward Technical College is a great choice for you. Our Broward continuing education schools are in Coconut Creek, FL, but also serve the nearby communities of Davie and Hollywood, FL. We offer full-time year-long programs to help you gain the knowledge and skills you need to embark on a new career path.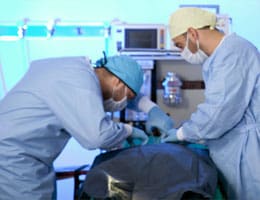 What is Orthopedic Technology?
The field of orthopedic technology is centered around patient care and medical knowledge. An orthopedic technician is responsible for applying a splint, cast, or brace to an injured patient. As an orthopedic technician, you will also be giving patients directions for how to go about daily life while remaining safe, how to care for their injured body part, and how to adjust their orthopedic device.
A career in orthopedic technology allows you to work in any hospital, clinic, or even an emergency room. To begin your journey towards becoming an orthopedic technician, check out our medical technology programs.
Orthopedic Technology at Broward Technical College
 The orthopedic technology program at Broward Technical College is offered exclusively at our Atlantic Technical College campus. This is a full-time, eight-month program that can be done either 100-percent in-classroom or in a hybrid half-classroom/half online.
This intense educational program will cover all the necessary skills and knowledge you will need to excel as an orthopedic technician. As an orthopedic technology student, you will learn how to work with orthopedic doctors, how to follow departmental procedures, how to work with injured or elderly patients, and so much more.
In our orthopedic technology program, you'll learn skills that will help aid you in your day-to-day career as an orthopedic technician like braces and traction skills, patient assessment skills, sterile techniques, interpersonal skills, basic radiology interpretation skills, and infection control procedures.
When you're looking for colleges in Pembroke Pines, FL to attend, contact Broward Technical College. We offer a wide range of accredited programs as well as financial aid for those who need it. Visit our website to learn more about our Sheridan healthcare careers and to enroll in our orthopedic technology program. Your new career is just a few clicks away.