If you're looking to get a new career, then the information technology certifications we have on offer at Broward Technical Colleges are what you need to ensure you excel. Covering a wide breadth of fields and modern technologies and concepts, we're more than happy to show you what we have to offer today.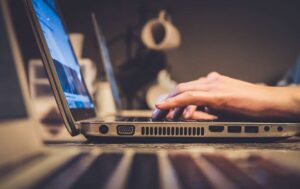 Get Certified in Nine Different Fields!
Taught by experts in their field, our instructor-led courses prepare you for certifications and industry-leading tests to ensure that you stand out among the crowd.
Applied Cybersecurity: 750 hours, around seven months

Learn skills to protect computers from security intrusions. Students prepare to take the CompTIA CySA+ exams, nationally-recognized cybersecurity industry certifications.

Applied Information Technology: 600 hours, around six months

Learn computer applications skills as well as hardware and software applications, maintenance, and basic networking concepts. It's a great start to any IT career.

Computer Systems & Information Technology (CSIT): 900 hours, around nine months

Prepare for the CompTIA A+, Network+, and Security+ certifications with this course covering computer hardware, troubleshooting, in-depth networking concepts, and more.

Database Application Development & Programming: 1200 hours, around 12 months

Students learn how to design databases and use computer programming languages to create and manipulate databases. You'll also develop skills in communications, computer program characteristics, and much more.

Game/Simulation/Animation Programming: 600 hours, around six months

Learn programming fundamentals, game design principles, animation, game engine development, and how to use programs like FLASH, Game Maker, and Unity 3D to make games.

Java Development & Programming: 1200 hours, around 12 months

Learn the basics of object-oriented programming through an introduction to the Java programming language. Test, monitor, debug and maintain Java computer applications.

Network Support Services: 1050 hours, around ten months

Prepare for the CompTIA A+, Network+, and the Microsoft Certified Technology Specialist Exams with this program. Discover the proper techniques necessary to maintain, scale, and upgrade computer networks.

Web Development: 1050 hours, around ten months

Learn a broad foundation of skills to prepare to design, code, and publish websites for several different formats, including desktop, mobile, tablet, and more.
 
Get in Touch with Our Colleges in Broward County Florida Today!
There's never been a better time to check out our IT technical school programs! Our colleges in Broward County, Florida, have new courses opening up all the time, so get in touch with us today to begin your new career. As one of the top information technology colleges in the state, we know we offer an experience that will change your life!