It's never too early or late to begin pursuing your dream of a rewarding career. At Broward Technical Colleges, we invite aspiring chefs to explore our Professional Culinary Arts and Hospitality program.
As with the many other programs offered at our culinary colleges in Florida, this course covers the material that is necessary for a successful career in this field. Discover why students choose this program today.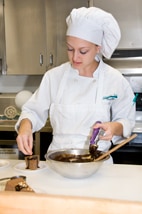 Professional Culinary Arts and Hospitality Program
The Professional Culinary Arts and Hospitality program is a hands-on program that enables students with the skills and experience it takes to successfully prepare commercial foods in large quantities, as well as complete the various phases of baking. In addition to the preparation of food, there are key skills that students must master.
Sanitation and safety, along with proper use of equipment, are essential for day-to-day life as a chef, baker, or hospitality manager. Menu planning, basic nutrition, and pricing are important to understand for running a business overall. Our course will cover these topics, along with guidance on becoming employed in a culinary role.
Our Professional Culinary Arts and Hospitality program is full-time and will take approximately 10 months to complete. It is accredited by the Accrediting Commission of the American Culinary Federation Education Foundation (ACFEF). Under our hospitality and tourism umbrella, we also have a Baking & Pastry Arts and Culinary Vegetarian and Plant Based Specialty programs.
Enrolling at Broward Technical College
When you're ready to kick start your journey toward a career you'll love, give us a call or fill out the form on our website for more information to virtually meet with one of our counselors in our Broward career center.
There are many reasons to choose our schools. All of our teachers are state-licensed and certified with plenty of experience in their fields. Credits completed at our trade schools may qualify toward an associate's degree. Financial aid is available for students that need assistance.
Whether you want to be a chef, salesman, or are in need of your GED® certification, there's a path for you at Broward Technical College. We hope to welcome you into one of our exciting programs in the near future. The search for "online classes near me" is over. Enroll today!